Workspace will be more about "what expectations to meet," rather than about location
Olly Olsen, Co-Founder and Co-CEO of The Office Group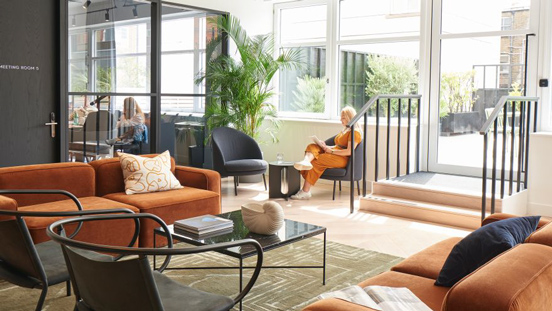 In November 2019 at the London venue of Worktech, an international conference focusing mainly on workstyles and workspace, Olly Olsen, Co-Founder and Co-CEO of The Office Group (TOG) gave a talk on the present and future flexible office market, with Jeremy Myerson as moderator. The following is a summary of his talk, which was centered around the idea of "mission."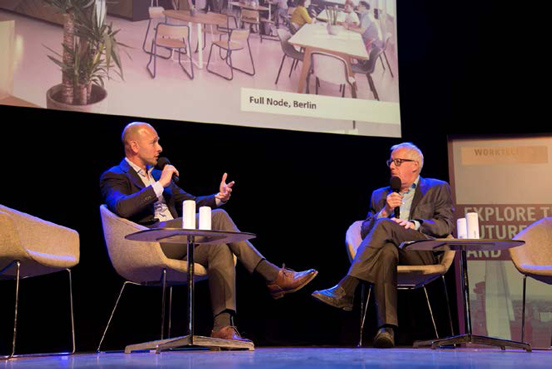 Comfort is more important than innovation or technology
TOG is based in London and operates flexible workspaces such as shared offices and rental meeting rooms in a total of 51 locations (as of November 2019; includes workspaces in development). TOG has been 20 years in the making. 20 years ago, the concept of mission or brand design had not been introduced in the serviced office market. It was all about providing a service and an end product. We have developed our business with the aim of modernizing the serviced office, which were expensive, bland, and deemed to be temporary.
When Charlie, the Co-CEO of TOG, and I choose a place for a flex space, it just comes down to, "Would we want to work there?" I know there is a lot of innovation and technology within the workspace today, but the bottom line is that people working there need to feel comfortable.
For example, out of the 2,500 rooms we currently have within our portfolio, I can count on one hand how many of them don't have a window. It is very important that there is natural light in the work environment. We have also created workspaces in places other than office buildings, such as former police stations and railway stations. Since we design the interior of each workspace based on the characteristics of the city and the history of the building, every single one of our rooms looks different, but they are the same in that they are designed with a customer in mind. Providing unstandardized spaces resulted in attracting a wide range of customers, from startups to large corporations.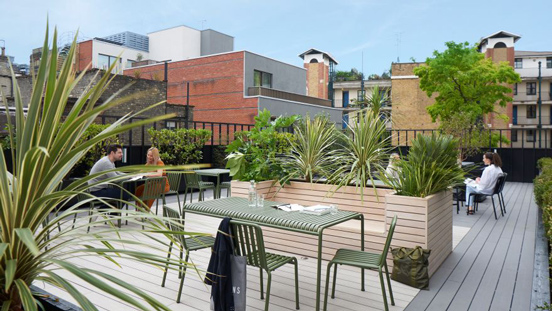 Combining the two strands: Serviced offices and co-working offices
Jeremy Myerson: The flex space market is currently being used not only for business purposes but also from a creative and intelligent perspective, and I think there are two very distinct trends within the market. One is the traditional serviced offices. Serviced offices have been about service delivery, service comfort, support, customization, and hospitality, but maybe not so much about community. The co-working movement, on the other hand, which started as a social movement, was all about ethos, vibe, and engagement. But how much amenity is there? How much comfort is there? Tell me about how you evolved these two strands.
One solution is the mission-led workspace concept. "Mission" means what users expect when they choose a workspace. Something happened that led me to think about "mission." In a co-working office building we had in Shoreditch, the lift went out for six weeks. But the users of the building walked up the stairs and never complained or left.
Why? It was because they were not there for a service or facility but because they felt a value in being in the building. All of the doors in the building were open, all of the customers seemed to connect and work with each other. I realized then that this was something to be monetized.
Around the same time, the lift went out in another building we had, but the users there all complained and wanted compensation. They were there for a service or facility. There is a different purpose and a different reason why people want to be in a certain space. I think flex space will move towards a third dimension in the future to meet users' expectations by combining the values that had been provided by serviced offices and co-working offices, instead of considering the two strands as opposing one another.
Corporate customers, our main target, have also been seeking something between serviced offices and co-working offices in recent years. They do not just require a high level of service, nor are they satisfied with just the stimulation and vibe or a sense of community that can be gained from co-working. I feel that the key is how to balance the values that traditional serviced offices have provided, such as comfort, support, and customization, and the values of co-working.
Competition between head offices and flex space
What we have to be careful is that, if the level of service we provide in our space does not match that of their head offices, their employees will not want to come. What companies and users want is the flex space to match or outperform their head offices. We can no longer remain competitive only by offering good access in terms of location. We are not just competing with other flex space operators but we're also competing with the traditional corporate executive offices.
On the other hand, I am convinced of the growth of this market. Of the 250 million square feet of offices in London, about 6% is flex. Demand is going to show that this increases. And more to that, that square feet of commercial space doesn't incorporate people working from home, or at the British Library, or at Starbucks. The total amount of workplace in the future will not just be in the office building market that we currently see.
Even with today's rise in flex space, many people still work at Starbucks. This is a natural choice in terms of price, if the value of staying in a flexible office was lower than Starbucks. The same thing applies to the British Library. The needs of these people may be incorporated as flex space evolves.
Choosing space, not location
Going forward, TOG intends to explore niche workspaces focused on specific sectors. These workspaces will be more customized to suit users' industry and orientation, connecting companies and individuals who gather at the space, supporting the success of business. This too is a form of a mission-led workspace.
If we, the providers, expand the mission of workspaces as well as the service and move toward a third dimension that combines the two, I think workspace is no longer going to be about real estate—it's going to be about an environment that's going to help all of the businesses grow. And when you're a company that's looking to grow your business and thinking which environment you want to be in, you will be picking space and no longer a location.