"Release from Lease Contracts" Aimed by a NY Workspace Provider
Knotel
While co-working offices offering collaboration or innovation features have been gaining attention, there has been a rise in the needs for customization and security, as companies increasingly make use of flexible offices. Workspace operator Knotel was among the first to address such needs. Knotel started business in New York in 2016 and currently operates more than 200 locations in 17 cities across the world (of the more than 200 locations, more than 120 are in New York).
What triggered Knotel, who are scheduled to expand into Japan in 2020 to respond to companies' requirements? We asked Knotel's Chief Operating Officer, Eugene Lee.
Providing "flexibility of space and terms" in offices
Knotel is unique in that they have focused their customer target on relatively matured companies with more than several dozen employees ever since they started business. While most flexible workspace operators initially provided "co-working" space shared among multiple users to freelancers, entrepreneurs, and small startups, Knotel has offered dedicated spaces customized to each client company.
"Our business model differs from that of co-working spaces, which have become a trend these several years, in that we launched our business with the aim of giving companies flexibility. We don't do co-working. We don't do events. The core of our service is to provide 'flexibility of space' and 'flexibility of terms.'
In the United States, the traditional lease is 5 to 10 years. And many companies, I think it's 70-80%, often need to move before the lease expires. If they're growing or they have shrunk, they need to separate their space and go find another space. That's an expensive process for them. Companies bear the trouble and cost to negotiate with property owners, call different people to get their office ready, and wait for months worrying about getting delayed. What we provide is an all-in solution that takes care of all such burden and provides workspace that companies require on a timely basis." (Eugene Lee)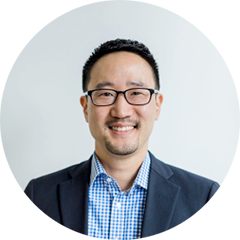 Gap between the gig economy and lease contracts
Knotel's basic service model is a comprehensive workspace platform providing all the processes of their client company's move into an office, in response to the request of the client. The processes not only include prior processes such as selecting the property, designing the space, managing the buildout, and ordering furniture, but also facility and operations management after the move.
The interior designs and furniture are not uniform but are customized to each client by asking them how they want to work in what kind of environment. All of the costs are included in the usage fee and the clients do not have to worry about returning the space later to its former condition. When they need to expand or shrink, they can pick another office from Knotel's portfolio and move immediately. The actual average lease term for Knotel is between 18 and 24 months, with many companies having to move to a different location within two years.
The reason that such services were accepted has to do with New York's high rent*1 and the spread of the gig economy. Project-based work is on the rise in the US, the driver of the gig economy.*2 Amid increased movement of personnel working at companies, it would be natural for companies to want to eliminate waste, such as, for example, continuing to pay the rent of an office that remained after the project team was dissolved. The traditional, fixed office contracts are not matching the actual state of the labor market.
*1

According to CBRE's "Manhattan Midtown Office MarketView Q4 2019," the average rent in Midtown, a major office area in New York, was 86.35 dollars per sq. ft. at the end of 2019, up 10% from the end of 2018.

*2

According to the "GLOBAL GIG ECONOMY REACHES USD 4.5 TRILLION" by the Staffing Industry Analysts, an estimated 53 million people took on gig work (one-off freelance work) in the US in 2018, which is 34% of all US workers. Total global gig economy spending hit an estimated $4.5 trillion in 2018.
As project bases and satellite offices
The purpose of using Knotel differs depending on the size and type of the client company. Small and medium companies, for example, often use space provided by Knotel as their head office. Though not yet common in Japan, companies in Europe and the US are increasingly setting up their headquarters in flexible offices based on service agreements, instead of under a lease contract. Knotel is a major option.
Meanwhile, large companies often use Knotel's space as the office for projects that involve several dozen to several hundred people or as a satellite office in a location other than their headquarters.
"If you were a management member of a bank and decide, 'I want to set up an innovation center to think of what's happening in block chain. I don't know if it's going to be a permanent part of my business, but it is something that I want to explore,' then you put a team of 50 engineers in the Knotel space and it would be a smooth process when you have to relocate due to increased headcount of the team or when you close the office. The number of employees may also increase in the hundreds due to frequent company acquisitions. If the company you acquired was geographically far, the expected synergy will not happen. In such cases we also introduce a space closer to the office of the purchaser.
Another example is to use Knotel's space in the local area when a large global company expands into a new country or city. This is an easy way to launch their own satellite office. They will not have to study business customs and laws of the country's real estate industry from scratch. For many companies, the complex processes of traditional office contracts are not their specialty and I think it is a waste of time and energy." (Eugene Lee)
Filling the gap between tenant firms and building owners
Knotel offers new opportunities not only to their user companies but also to real estate owners. Many of the real estate owners do not know how to operate flexible offices. Although they prefer the traditional, stable long-term contracts, they are apparently becoming more positive about providing their building as flexible space. Knotel rents such buildings and leases them out after incorporating space design and interior according to the requests of their client. This helps the companies make their portfolio more flexible and provide additional services to their tenants.
As the other end of the advantages for companies mentioned earlier, when client companies operating globally expand to a new market, they are likely to choose space run by Knotel, which is an existing brand. "Several clients have said to us, 'If you have a location in Tokyo, we would like to be a client of yours in Tokyo.' Real estate owners in any city won't necessarily have deep relationships with companies in other cities or other countries, and it would be difficult for them to attract such companies as tenants. We are a nice channel for them to access global clients." (Eugene Lee)
Following such rise of recognition of the Knotel brand, in addition to the basic model of subleasing to clients there has been an increase in cases recently where Knotel enters into a contract with owners to manage their property. Mr. Lee compared this to the hotel industry.
"Global hotel brands like Marriott and Hilton don't necessarily own the buildings anymore. They are the operating partner. If I want to go and visit in Tokyo, then I would find a hotel that I heard of before usually, and maybe I will stay in a Marriott or something. It's brand that will drive people in the location. In the current office industry, there is no global brand that I know of like in hotels, but we will aim to be chosen by tenants by becoming the operating partner of office buildings and adding brand value." (Eugene Lee)
Knotel may cause a stir in Tokyo's office market
In 2020, Knotel plans to open their first location in, Tokyo. The first clients will probably be the local offices of global firms. It is because Knotel can offer local market knowledge for international companies opening an office in Japan, instead of the customer having to navigate customs of Japan's real estate lease industry, such as interior costs and deposits, on their own.
However, Japanese companies may also require new options of offices other than traditional owning or renting as they face the need to respond to the changing business environment, such as accelerated globalization and M&As. For example, flexible offices mainly serve as telework locations for Japanese companies at the moment and are at substitutes for owning or renting offices. With the arrival of Knotel in Japan, Japanese companies may choose to adopt flexible offices as their head offices.
Knotel's arrival in Japan may encourage diversity in the services offered in Japan's flexible office market as well as having an impact on the traditional lease model of the office market.
Interviewed in January 2020